The bonfire right next to the pool, mulled wine, hot apple juice and home-made biscuits are what it takes to create the perfect and warm atmosphere that will certainly conquer your heart.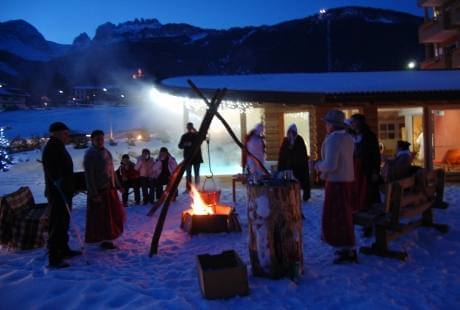 After a long day spent within the snow, the Wellness Centre "Te Jaga" is exactly what you need to relax properly and to revitalize your tired body.  Here at the Olympic SPA Hotel we know how to make this experience unique!
You can choose between a relaxing massage, a resting swim in our pool and the magical sensations raised by the Aufguss in our sauna with its superb view of the Dolomites. Only a bonfire and a cauldron of mulled wine could transform each of these experiences even more exclusive. 
Our hot and spicy wine is just as beneficial for your body and your mind as are our treatments.
Taste it and you will never forget its uniqueness.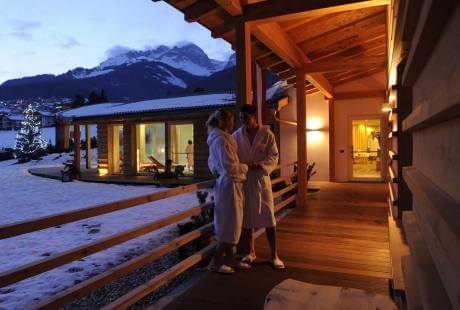 You will know when it is ready to be taste: the fire burning in the brazier, the fragrance of the cinnamon and of the cloves within the air and suddenly the magic begins.
And when you will be back home and will feel that magical atmosphere on your skin again, here we offer you one of our mulled wine recipe:
Vin Brulè:
1 l red wine (preferably from Trentino!)
200 ml water (even less if you feel brave enough!)
100 g sugar
Orange peel
An apple in pieces
Cinnamon
Cloves